Greetings! I love splurging on underwear – my go-to choice is a pair of boxer briefs. It is more suitable for my body type, plus I feel sexy wearing it.
Wearing a phenomenal pair of boxer briefs is a life-changing experience. But when it comes to undergarments, you get what you pay for. Some are made with cheap materials that are an absolute scam. While some are so lavish, I do not see the point.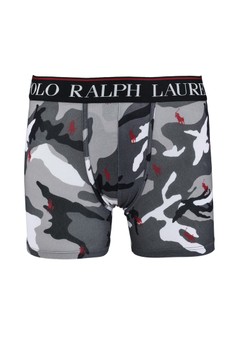 Today, I am reviewing the AIRism Boxer Briefs from one of my favorite brands – Uniqlo.
But before anything else, do not forget to like and follow my blog. It is not much, but I will deeply appreciate it. You could also catch me on social media; here are my links
While you are at it, please check me out on Patreon. I am just 4 patrons away from my goal; I would be glad if you could help me reach it. This would help me maintain this blog. Thus, allowing me to produce fresh content weekly.
Special Thanks to:
So without much further ado, here is my review of Uniqlo's AIRism Boxer Briefs.
Uniqlo AIRism Boxer Briefs Review
UNIQLO is a clothing apparel company founded in Yamaguchi, Japan, in 1949. Now, it is a global brand with over 1000 stores worldwide. I am fond of the brand because of its simplistic yet elegant approach to fast fashion. Being an Asian brand, I never had any problems with their sizing.
What is Uniqlo AIRism?
Uniqlo AIRism wicks away moisture and heat from the skin, making it perfect for hot weather. It is made with breathable and rapid-drying fabric and has a silky light feel. It stretches to fit without bagginess or restricting any movement.
It also has odor-eliminating properties that stay active even after repeated washing. It neutralizes odor, making it the ideal boxer brief to keep you fresh all day. Just put it on, and you are ready to go.
The Boxer Briefs
Uniqlo AIRism Boxer Briefs costs 590 pesos a piece. It is near twice the cost of their Supima Cotton variety. So, it can get a bit expensive.
But, its superb quality and comfort make up for the few hundred pesos you have to cough up. At first touch, the fabric does indeed feel silky and soft. I immediately noticed how snug it fits without being too roomy upon first wear.
I love how thin and breathable it is compared to other boxer briefs. It feels delicate and breathable yet, enough to cover my junk. I can't help but feel sexy wearing it while staying cool and light.
I am extra particular about the quality of the waistband. It is usually the first to wear out, making it a clear indicator of when to replace undergarments. It would surprise you how many brands in the market have elastic bands that give out after one month of use. You would literally find countless boxers cheap online.
Luckily, the elastic waistband of their boxer briefs is reliable. After a month's use, it is as promising as the day I bought them. It retained its stretchiness after weekly washing and wearing.
Another thing I look for in boxer briefs is the insides of the thigh. They tend to rub together, causing distress in the fabric. This seems to be a common issue with cheap cotton, as they can get fuzzy over time.
It does not seem to be an issue on Uniqlo AIRism since it is made with smooth fabric. Because of this, there is less friction between the thighs when walking. It is likely to last longer with how these boxer briefs are constructed.
The Verdict
All in all, I love Uniqlo as a brand as it appeals to my Asian sensibilities. Although a bit pricey, the quality of the AIRism boxer briefs makes it worth it. I am even considering buying another pair.
These are for those looking to upgrade their underwear game without going overboard with the price. If you are a typical Filipino, it is a much more affordable option compared to a pair of Calvin Klein. I highly recommend these boxer briefs.
That concludes my review. But before you go shopping for boxer briefs, I would like to share some exciting news! Did you know that Uniqlo is now available on ShopBack?
ShopBack is an app that lets you get rebates when shopping at Uniqlo. You simply install the app and register for a free account then you can begin shopping! To top it off, you get a 100 peso bonus if you sign up using this link!
Enjoy shopping for boxer briefs with ShopBack!
So there you have it, that is my take on Toxic people and how to deal with them. I hope you enjoy it. If you want more content, please check out my other posts!
See you again next time!
Check out my Affiliate Links