Greetings Barbarian! Long days and pleasant nights!
As babies, walking is one of our first developmental milestones. It is the simplest and cheapest form of getting around. It is open to everyone – young or old, rich or poor.
We can walk to work, take a trek around the neighborhood, or have a tour around the city. All it takes is to put one foot forward and follow the other. Easy peasy lemon squeezy, right? 
It is no secret that I had a rough couple of years. It had an immense effect on my well-being. I was out of shape and depressed – the future was not promising back then. It was not until I caught a break last year, thank goodness.
Now, I can shift my focus to my wellness without somehow worrying about the immediate future. At first, I planned to hit the gym as soon as my savings allowed it. Yet, I have to change my plan due to my hectic work schedule.
Walking, by far, is the most straightforward exercise ever. Besides that, it also revitalizes the spirit and clears the head. Making it a daily habit can improve your life to a great extent. 
Before anything else, my birthday is around the corner. I am about to turn 36 in a few days. If you want to sponsor my future post, please check me out on Patreon. For $1 a month, you get to support the blog and allow me to make better content.
Being a writer is tough and it does not pay much. But with your support, I get access to writing tools and attend workshops. I would have the chance to write better content. It would help in putting food on our tables and paying our bills.
Thanks to my Patrons for making this post possible. I am so grateful for the love and support. I appreciate it so much.
Special Thanks to:
Please check out my Patreon now and sponsor my blog!
A Barbarian's Guide to Walking
If you want to make walking a part of your daily schedule, here are a few things to keep in mind.
Walk All the Time
Much like everything else in life, consistency is crucial. Go for a walk every day with rest days every once in a while. I usually go five times a week if my schedule is free.
Wear Comfortable Shoes
The wrong shoes can make your feet sore, especially when walking for long periods. Make sure to wear shoes with enough support and cushion. Throw in some comfy socks while you are at it.
If you are looking for a comfy pair of running shoes, you can check out Under Armour Charged Bandit Running Shoes. Build for speed, the Charged Bandit is lightweight with phenomenal cushioning so you can put in the miles.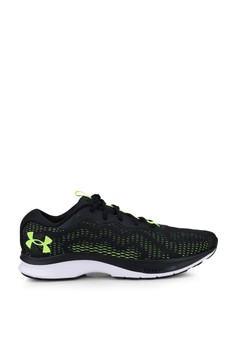 Get your UA Charged Bandit Running Shoes at Zalora Now!! Enjoy Cash on Delivery. Order now at the largest Fashion Store in The Philippines! 
Get Your Heart Rate Up
If you hate cardio, walk fast enough to get your heart rate up. You do not have to worry much about your pace or cadence. The important thing is to get your blood pumping and breath quickening.
Walk on All Conditions
Walking on a perfectly sunny day is phenomenal. But, there is something extraordinary in strolling in less than perfect conditions. It challenges your senses, whether a light rain shower or a humid streak.
Make Walking Interesting
Walking is so simple that it gets boring at times. You can switch things up to make it more exciting. Head in a different direction or try a new route altogether. You can also try walking at various times.
Be with Your Thoughts
During your walks, take the opportunity to give your brain some space to think. Modern life convinced us that we should always listen. Walking is a meditative activity that allows us to contemplate and take the world around us.
Bring a Companion
While being alone can be meditative, walking with a companion can also be enjoyable. You can bounce off ideas and have meaningful conversations while walking. So, bring along a friend or spouse on one of your strolls. I am sure you will not regret it.
Afterthoughts
I have been taking regular walks for almost a month now. I must say, the first week was a bit rough. My joints are not how they used to be when I was younger. Plus, I have been in a sedentary lifestyle for far too long. Engaging in some physical activity took some time to adjust.
I am ecstatic – I can now walk as far as 6 kilometers. I get to explore the cityscape while I lose a few pounds. Plus, finishing a walk faster or farther than usual leaves me with a sense of achievement.
I have fewer aches than usual. Plus, my mental state is much better than before. Who knows, I might be able to afford a garage gym in the future. I could take walks and lift weights as my fitness routine. The prospect excites me. 
So there you have it. I hope you enjoy this post and somehow enticed you to add walking to your daily activities. If you have anything to add, please check out the comment section. I would love to hear about it.
Until next time.
To courage and freedom!
Before you go, please check out my previous post!
While you are at it, please check out my bookshop over at Shopee. We offer a wide selection of imported books. Use discount code BBOOWALK to get 10% off on all titles. 
Follow us on Social Media!
Check out my Affiliate Links