Greetings Barbarians! Long days and pleasant nights. I was browsing the other day for a tumbler when a friend suggested checking out AquaFlask. So, I logged in to Shopee to see if they have an official store, and I'm in luck – they are on sale!
A bit of a disclaimer before we proceed. This post is not paid to advertise for AquaFlashPH of any sort and for review purposes only. I wish I was making money off this, but I don't. I do have a Patreon for that. So if you like this content and would love to see more in the future, please sign up on my Patreon.
This post is, in fact, brought to you by my awesome patrons. I could not do this without them, much more, afford things without their support. Special thanks to the following:
If you love my work and would like to sponsor this blog, please check out my Patreon. For as low as $1/month, get to enjoy bonus content and take a glimpse of my creative process. Help me maintain this blog and provide quality content.
Get to know me up close and have access to content you can't get anywhere else. My Patreon posts are more intimate and personal. I post exclusive content, behind-the-scenes photos, and a bit of my personal life.
With your support, I get to make better helpful content like this post. I need your help in making this blog my full-time job. It would motivate my writing and enable me to focus more on its quality.
Please do me a favor and check out my Patreon; you do not have to subscribe yet. Hit the link and reckon if you like what you see. If you see my work as something of value, then be a patron and support a dream. It would be of great help to us!
If you're still new to this blog, please subscribe to get the latest and juiciest updates. Oh, hit the Like button too while you are at it. Don't forget to share it on social media. Thank you so much!
Now, back to our AquaFlash review!
If you lived in the Philippines or visited once or twice, you will know how humid our weather can get. It is crucial to stay hydrated, especially during summer. Plus, I'm also planning to go back to the gym. Buying myself a water bottle seems to be a no-brainer.
At first, I was hesitant to buy one because I could not justify a 1,600 peso water bottle. I could do a lot with that amount of money – it's too exuberant for me. I am in no position to splurge on these kinds of things. Then I saw AquaFlask.
Is AquaFlask worth it?
AquaFlask is a Filipino-American brand that sells stainless steel double-insulated water bottles. And from what I am seeing, it is reasonably priced for the usual Filipino. So, despite my initial reluctance, I add to the chart, and I wait.
It took a few days for it to arrive. At first, I think this might be one of those cheap-looking bottles – how wrong I am. Upon inspection, I was surprised by how well made these bottles are. Mine comes in a Turquoise Blue matte finish and holds up to 40oz. The box says it can keep your beverage hot for up to 12 hours and cold for 24 hours.
So, I washed it as soon as I opened it from the box and put it to the test. I filled it with some cold water and put some ice on it. I worked while waiting for a few hours, and I took a sip. To my astonishment, it is still cold. I got excited, so that evening, I filled my AquaFlask with cold water, took it to bed, and went to sleep.
I make it a habit to drink at least two glasses of water. So again, I was surprised to find that I drank ice-cold water that morning. Not as cold when I put it but still, it was chilled. I am starting to think this was a good steal.
Still skeptical, I wanted to try it on hot beverages. So, that evening, I brewed some coffee, put it in the Aquaflask, and went to bed. The prospect of having a hot cup of coffee as soon as I wake up excites me. I was not disappointed; the coffee was still hot when I drank it the following morning.
I am not sure if it does keep your beverage hot for 12 hours and cold for 24 hours. I do know that with AquaFlask, my drinks are at the right temperature when I need them. And for its price, it is not as expensive as popular brands like Stanley and HyrdoFlask. I got mine for 850 pesos; that is half the price of the other bottles.
Work-From-Home setups can get hectic and having a refreshing drink while I work helps. I tend to drink when I get stressed, which I think is a healthy habit. And like I told you earlier, I plan to hit the gym soon and lose some pandemic weight. As someone who sweats a lot, AquaFlask would sure help me stay hydrated.
Again, This is not content for AquaFlaskPH, and I am not getting paid of any sort. I wish I was, but I am not, and I got the receipt to prove it. So, as someone who enjoys his drinks and is on a budget, AquaFlask is an excellent option. It is affordable, and it does what other vacuum-insulated water bottle does. It keeps your drink at the temperature you want. I highly recommend it.
You could check out an AquaFlask store in most SM malls. They are also on Lazada, Shopee and Zalora. If you have anything to say, please comment down below. I would love to hear all about it.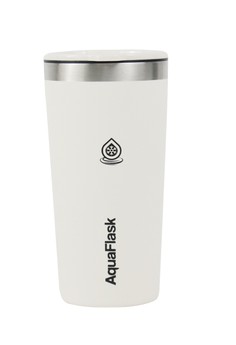 I hope you enjoy this leisure post. Please check out my other leisure articles.
Please subscribe to get the latest and juiciest updates. Oh, hit the Like button too while you are at it. Don't forget to share it on social media. Until next time, cheers!
For courage and freedom!
Follow us on Social Media!
Facebook @ https://www.facebook.com/MrABlogger
Twitter @ https://twitter.com/mrablogger
Instagram @ https://www.instagram.com/thebarbariangentleman
Tumblr @ https://mrablogger.tumblr.com/
Shopee @ https://shopee.ph/bbookshop
Check out my Affiliate Links